Originally published in Travel Pulse News by  TIM WOOD | DECEMBER 04, 2016
PHOTO: Passengers celebrate the airline's first flight from Los Angeles to Puerto Vallarta. (courtesy Southwest Airlines)
"This is a great day for us. To think we're just a few months into our third year of international travel and we're able to open this route, it's exciting for the company," said Southwest Vice President of Finance Paul Cullen. "It continues to show the amazing growth opportunity that Mexico represents for us and the strong demand."
Mexico represents about 2 percent of the company's total revenues, but Southwest has already become the top airline with U.S. service to Cancun and hopes to be the second-largest carrier into Los Cabos by mid-2017. Overall, the airline has gone from zero flights to more than 40 daily flights since August 2014.
"We are looking for additional points in the United States from which we can fly to Mexico beach destinations. We are excited by the demand being generated to Mexico, US citizens want to go to those destinations and we try to make it as cheap and affordable, fast and simple, said the company's director of international business development Steven Swan.
The Mexican journalists on hand for the inaugural flight from Los Angeles to Puerto Vallarta expressed concern that the impending Donald Trump presidency will sour relationships, but Swan made it clear that Mexico is a priority for Southwest.
When asked about expansion into Mexico City, Swan and Cullen both said that while the beach destinations are proven routes, they would wait to see what happens with the joint application of Delta and Aeromexico for gate slots at Mexico City International Airport.
The company will add nonstops to Mexico with the introduction of service from Oakland to Puerto Vallarta and Los Cabos. Officials said that the Mexico flights have been averaging around 85 percent capacity, on par with the load factor for domestic destinations.
With the addition of Los Angeles and Oakland, the airline will now have 13 gateway cities to Mexico, more than three times its competitors. The move into these markets from LAX has been in the works for 18-24 months, according to Swan.
Passengers were provided with Mexico flags as they boarded the Puerto Vallarta flight, and waved them proudly as the crew and Southwest officials led a round of applause.
As the near-capacity plane set down in Puerto Vallarta, the passengers were greeted with a fire-engine water arch salute and an airport employee with the perfect greeting.
"Are you ready to go to the beach and drink tequila, passengers?"
That qualified for most passenger applause for the day until the crowd began to deplane, only to be greeted by margaritas and a happy serenade from an adorably talented child mariachi band.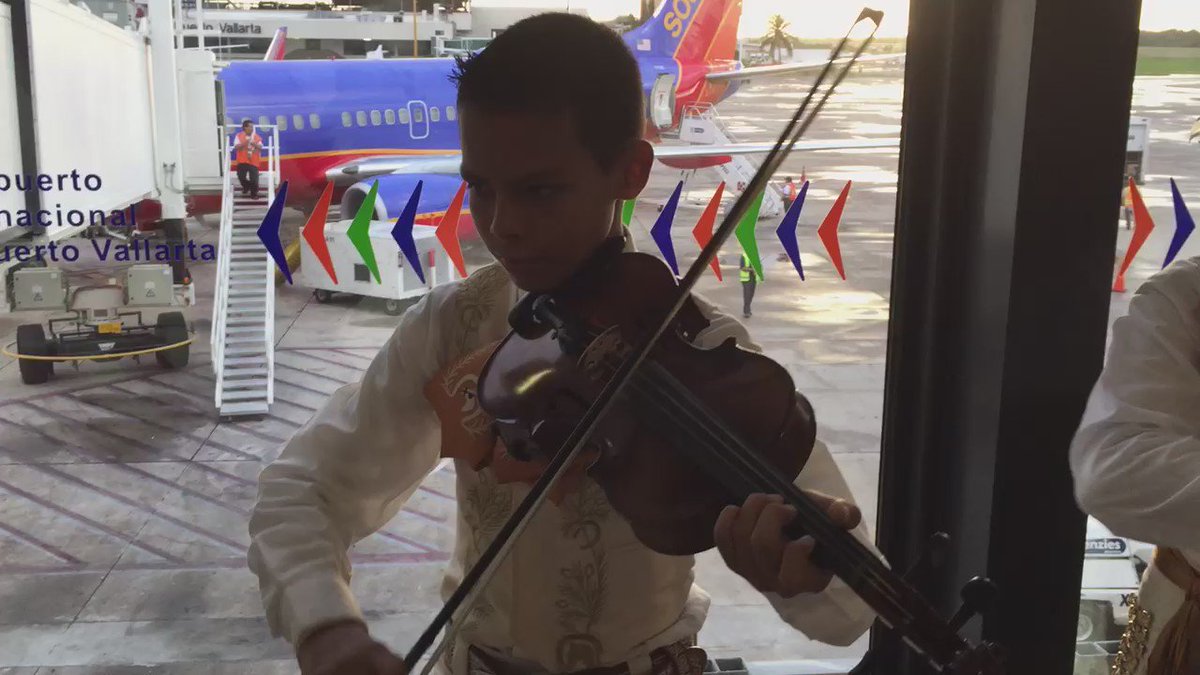 "This is the kind of stuff that makes Southwest special," said one U.S. passenger taking in the music, in no rush to get to the customs line. "I have been to Cancun and Los Cabos and you don't see this kind of greeting. It's clear this influx of tourists and confidence means a lot to the folks here in Puerto Vallarta."
Getting ready to plan your next trip or just interested in travel news?
For the latest in Disney, Universal, SeaWorld, Cruise and other travel news, remember to follow the Destinations with Character Travel web site, and "Like" and follow us on Facebook.
For additional Disney Fun, Join our Disney Fan Group, Disney Destinations Characters, on Facebook!
Please remember to contact Destinations with Character Travel for ALL of your Disney, Universal, SeaWorld, and Orlando Area Vacations, Adventures by Disney, Cruising, Tour, and exciting vacation packages all over the world. When booking though Destinations with Character Travel, all of our Disney Services, including FastPass+ and Dining reservation services are completely FREE. Also, you will always have a DEDICATED agent, available to you 24/7 from the very first minute of planning, right up until the day you return home, to answer all of your questions and handle any of your vacation needs.
We believe no one should be denied a vacation based on needs or budget, there's something for everyone.
Email: destwithchar@comcast.net
Phone: 630-308-2350
Latest posts by Don Korta
(see all)