According to a patent filed on August 18, 2014 by Universal City Studios LLC, a division of Universal Parks & Resorts, and issued by the United States Patent and Trademark Office on June 27, 2017, Universal may be planning to use augmented and virtual reality images in future attractions. The patent, titled "Systems and methods for generating augmented and virtual reality images," describes a system in which guests wear electronic goggles "configured to generate streaming media of a real world environment," "generate one or more virtual augmentations superimposed on the streaming media of the real world environment," and transmit the streaming media of the real world environment along with the virtual augmentations on the display of the goggles.
Universal describes the system as a way to provide "enhanced thrill factors" to traditional rides. Furthermore, Universal included several embodiments explaining the system's technology.
"In one embodiment, a ride system includes at least one ride vehicle . . . configured to receive a ride passenger." The ride system includes electronic goggles for passengers to wear (as previously described). These goggles are equipped with a camera (the camera will be used to help display images of a real-world environment) and a display. In addition to this, the system includes a computer system communicatively coupled to the goggles to generate virtual augmentations in conjunction with the video captured from the goggles, which will then be used to show to guests wearing the electronic goggles.
The patent's other embodiments describe the system's overall technology using examples of different techniques in which they can be used or activated.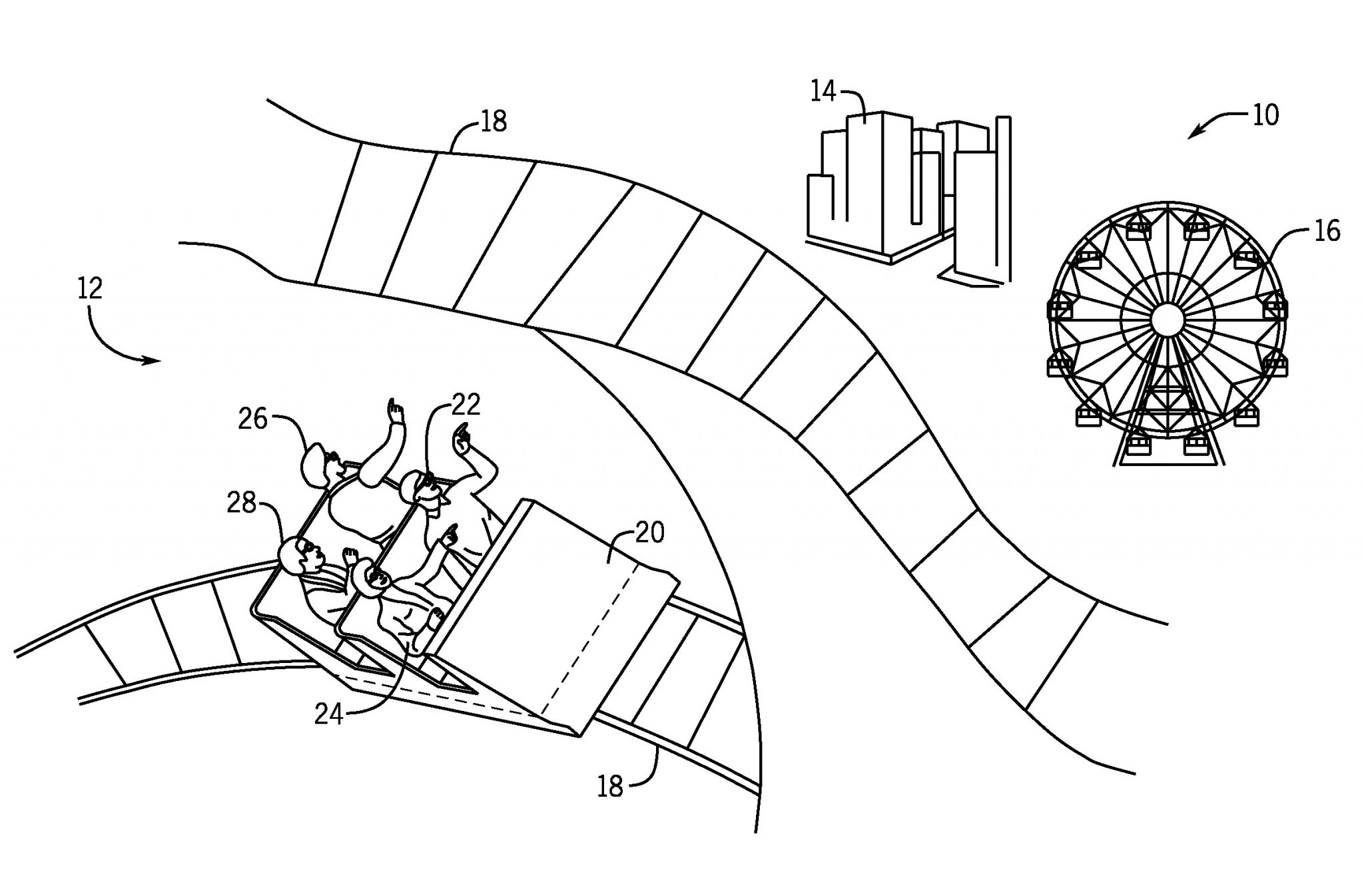 The above image shows an embodiment of an amusement/theme park that includes one or more attractions "in accordance with the present embodiments."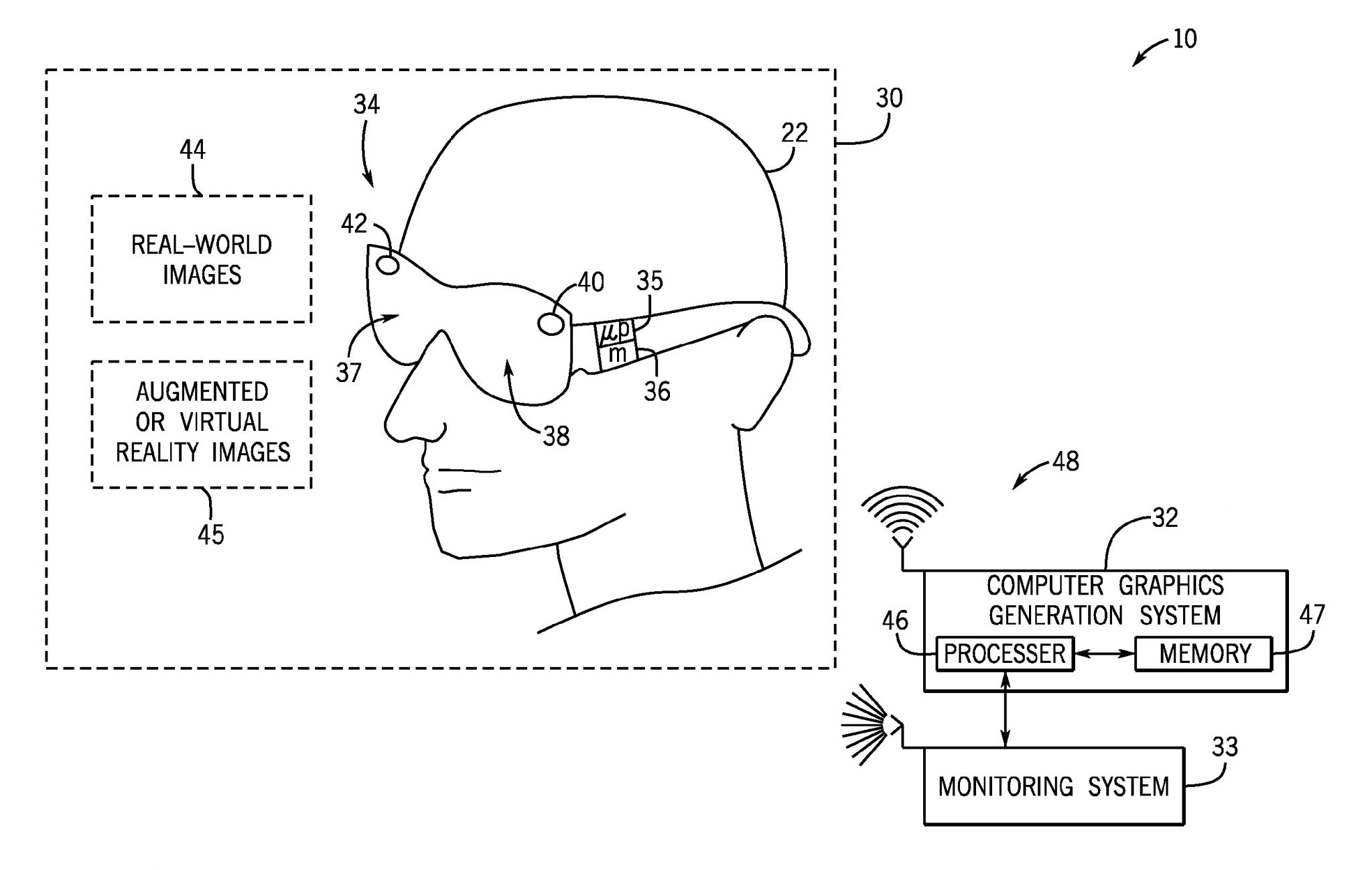 The image displayed above shows the augmented reality/virtual reality goggles described in the patent. Numbers 40 and 42 in the image are the approximate locations that the cameras will be placed in order to correspond with the passengers' respective points of view. Number 37 and 38 illustrate "a see-through LCD or a see-through OLED display" that will be used to show riders the real world and augmented reality/virtual reality images" all while "preserving the ability to see through the . . . displays."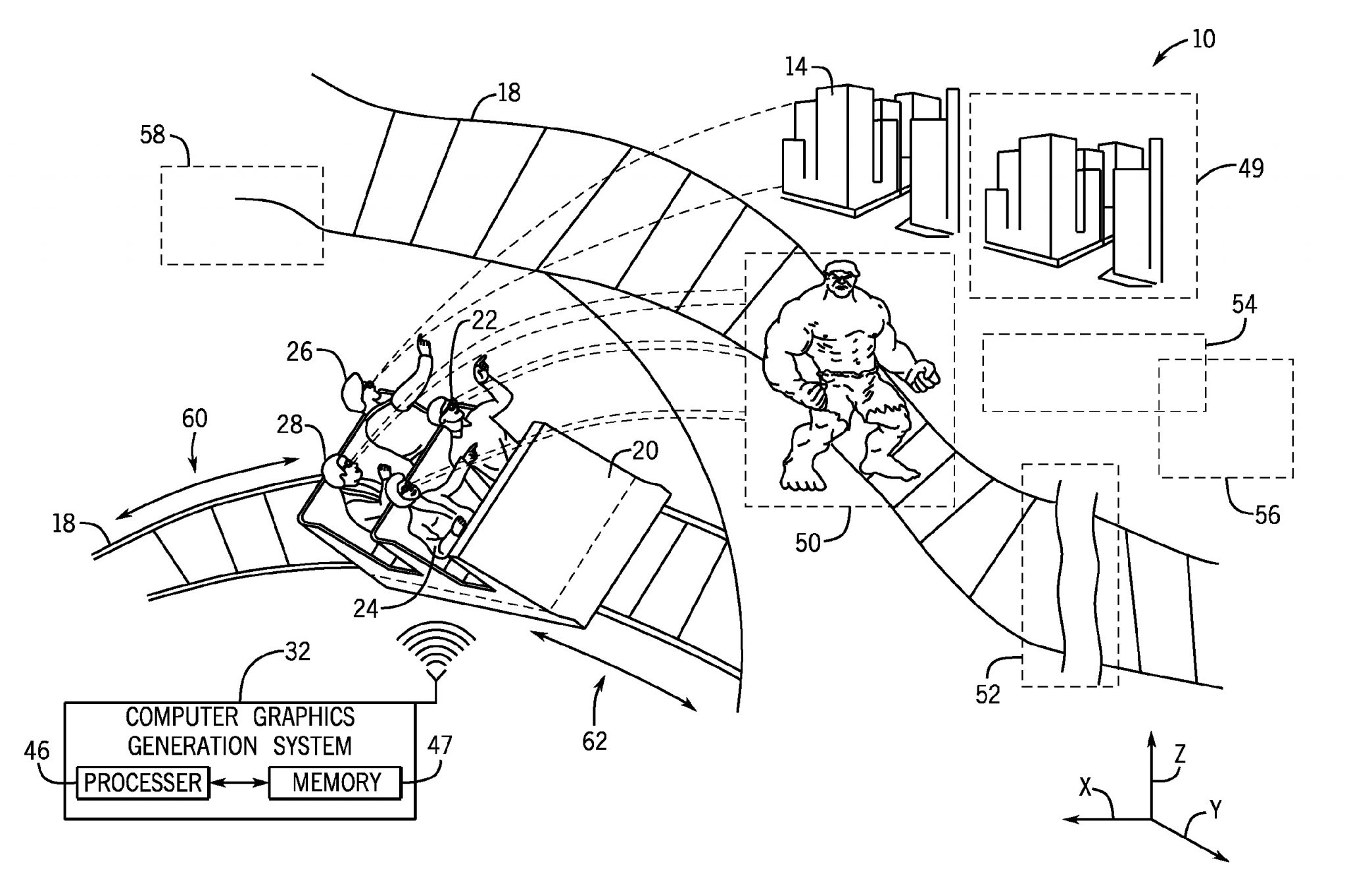 The image above exhibits an example of the augmented reality and virtual reality system on a thrill ride that features various augmented reality and virtual reality images. The example shows ride passengers in a vehicle wearing electronic goggles rendering real world images and augmented/virtual reality images based on the riders' respective points of view, "creating a photorealistic effect as the passenger ride vehicle traverses the tracks."
In addition to displaying images, the system is also capable of triggering sound effects, scented effects, and more in correspondence with the appearances of the images.
Universal mentions in the patent that the use of electronic goggles and a graphics generation system not only enhances the thrill factor of an attraction but also "the experience of the ride passengers." "By providing the electronic goggles as [augmented reality/virtual reality] eyeglasses, as opposed to . . . traditional head-mounted displays, the ride passengers may be provided with greater freedom of movement, as well as a more photorealistic experience. For example, each of the ride passengers may be able to see each other ride passenger, as well as the passenger ride vehicle itself even when wearing the electronic goggles. Moreover, because the . . . goggles may include individual cameras and . . . displays, data with respect to the respective points of view of each eye of the ride passengers may be captured by the . . . goggles," making it consistent with each riders' view.
The system explained in this patent allows guests to experience a blend of real-world images with virtual images that are not actually in existence; this opens a new way to immerse guests into experiences like never before. The patent does not reveal information about which attraction or IP this system can be incorporated into, but rumors have circulated that Universal's upcoming Mario Kart attraction may use augmented reality. However, this system can also be used for rollercoasters. It should be noted that Universal has not confirmed if this system will be used in any upcoming developments for their theme parks.
-From The Universal Orlando Blog, June 28, 2017
Getting ready to plan your next trip or just interested in travel news?
For the latest in Disney, Universal, SeaWorld, Cruise and other travel news, remember to follow the Destinations with Character Travel web site, and "Like" and follow us on Facebook.
For additional Disney Fun, Join our Disney Fan Group, Disney Destinations Characters, on Facebook!
Please remember to contact Destinations with Character Travel for ALL of your Disney, Universal, SeaWorld, and Orlando Area Vacations, Adventures by Disney, Cruising, Tour, and exciting vacation packages all over the world. When booking though Destinations with Character Travel, all of our Disney Services, including FastPass+ and Dining reservation services are completely FREE. Also, you will always have a DEDICATED agent, available to you 24/7 from the very first minute of planning, right up until the day you return home, to answer all of your questions and handle any of your vacation needs.
We believe no one should be denied a vacation based on needs or budget, there's something for everyone.
Email: destwithchar@comcast.net
Phone: 630-308-2350
Latest posts by Don Korta
(see all)